Once you've added a Match Profile, it pays to add a Campaign to it. This automatically sends Buyers any new published Listings that match their profile.
To do this: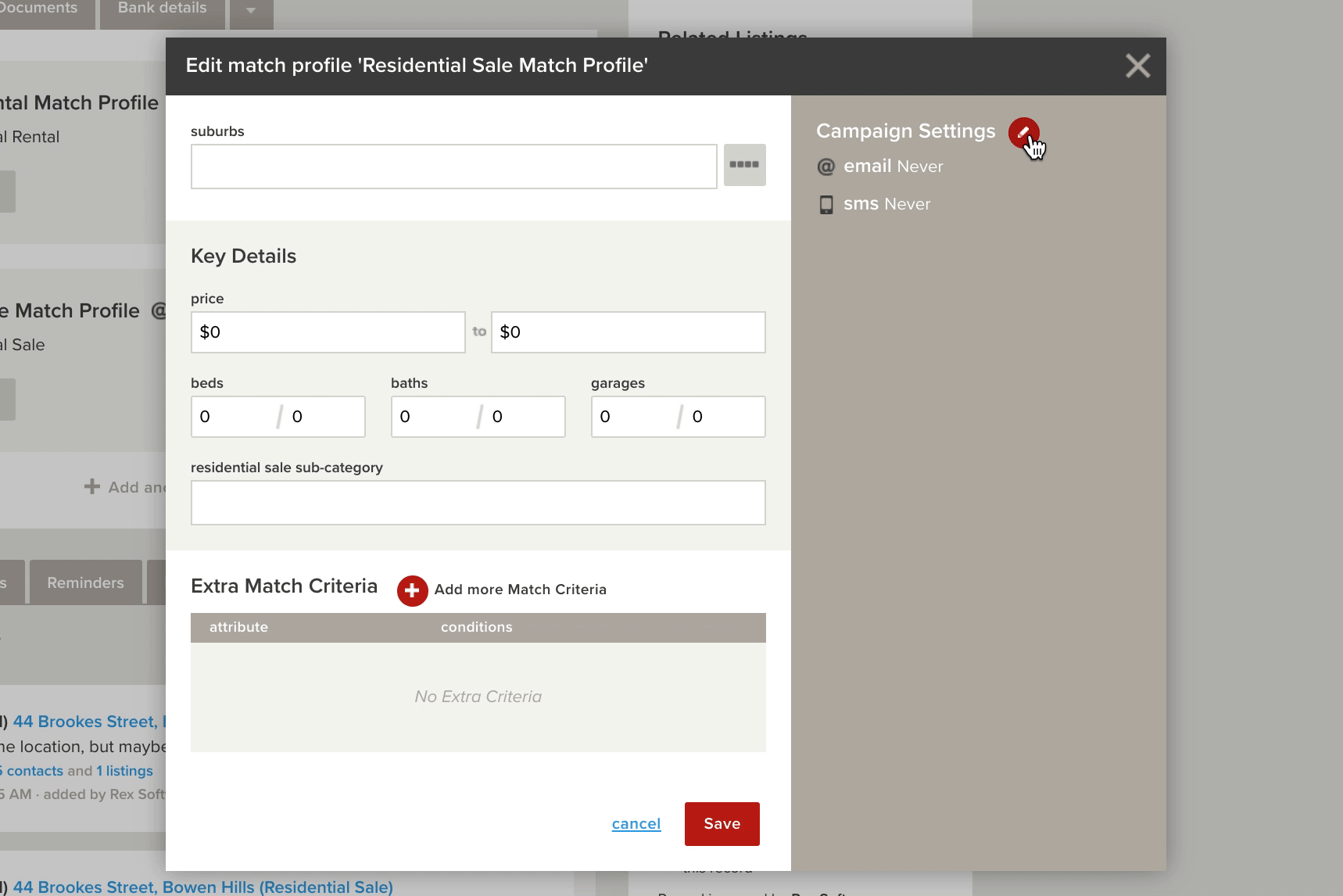 Open the Match Profile - if you haven't created one, see Match Profiles: Creating a New Buyer Match Profile
In the right-hand pane, click the Red Edit button next to Campaign Settings
Under Email Settings, change Never to the desired time-frame for emails to be sent out (the settings are the same for SMS - if you don't want to send emails, do the following under SMS Settings):


Immediate: Gives you the option to set the time of the day to send between e.g. 9:00 AM - 5:00PM. While you can use this option, it might not be best for your office - see note at the bottom of the page for potential issues and concerns.
Daily: Gives you a time to send every day.
Weekly/Fortnightly/Monthy: lets you choose which day to send and at what time

Set an expiry if you like. This date is when the campaign will be cancelled, and the Buyer will no longer receive automated emails.
If you wish to setup automated SMS alerts, repeat steps 3-4 - see notes at bottom potential issues and concerns.
When you're finished, click Done.
Click Save.
This won't send your Contact any Listings right away - only NEW Listings created from this point onwards. If you have existing Listings you want to send to the Buyer, see Match Profiles: Manual Match.
Important Notes: Using the Immediate option when selecting a time-frame will send an email straight away. This is fine if you use the default Rex E-Brochures, but if you use Siteloft, there is a delay between when you publish, and the Listing appearing on your site. This will cause your Buyers to be sent dead links - so when the Buyer tries to open them, nothing will appear. The max time that the link will be dead for is only an hour at most, but it's still something to consider.
Also, if you create a large number of Listings, your Buyers will be sent a lot of emails. While you might be keen on them seeing everything that is available to them straight away, Buyers may get annoyed with too many emails being sent. In this case, we recommend using the Daily or Weekly options. This will create a Listing digest - a single weekly or daily email with several listings, rather than multiple emails with one Listing.
Please do keep in mind, SMS can be a costly option. Each message sent uses Marketing Credits, and you might find you're go through them too fast. Always check with management before setting this in your campaign settings.
Finally, we can't unsubscribe your Contacts from campaigns automatically if they reply STOP. You'll need to go to their Contact record and turn off the Match Campaign yourself.