We can accept data in a couple of different formats - these include:
Custom Data spreadsheets, and:
Rex Template spreadsheets.
Deadlines for return of the Rex Template spreadsheets is 5 pm on each of the below-listed dates for Rex spreadsheets, and one week prior to this date for Custom data. If possible, it's best to return the spreadsheets as far in advance as possible. This will allow us to check the data for any issues that need to be fixed before the deadline.
Any data imports received after the deadline will be queued for the following month's import.
Upcoming Scheduled Data Import Deadlines
September Import - Submit spreadsheets by August 28th, 2023
Import week will commence on September 4th, 2023
October Import - Submit spreadsheets by September 25th, 2023
Import week will commence on October 3rd, 2023
November Import - Submit spreadsheets by October 30th, 2023
Import week will commence on November 6th, 2023
December Import - Submit spreadsheets by November 27th, 2023
Import week will commence on December 4th, 2023
Alternatively, we can arrange for a Priority data import. This import is $200+GST with a 5 business day turnaround.
Rex Template Spreadsheets
Rex spreadsheets are imported free of charge each month. One of each type of spreadsheet will be accepted from each agency per month.
The first page of the spreadsheet explains the difference between each of the columns, the second page provides you with example entries and your record data should be entered onto the third page.
Click the below links to download the spreadsheets:
Rex Import Tool - Submitting your Data
Important Note: To submit your data using our Rex Import tool, you must use the above mentioned Rex Spreadsheet Templates. If you do not wish to use these templates, please refer to the 'Custom Data Imports' section of this article.
If you'd like to import your data into Rex, action the following steps:
Login to our Rex Import Tool with your Rex user's details - CLICK TO LOGIN HERE
Click Start New Import
Enter in the name (example, Agency Name_User Name)
Click Submit
This will create an Import for you - from here, you can add one of each type of spreadsheet.
Click Add New Spreadsheet
Select the File Type (People, Companies etc.)
Drag or click to upload the spreadsheet
Click Upload File
Please Note: we recommend uploading files in the format CSV or XLSX.
Within the column status, you will either see:
Ready - The spreadsheet is in great condition and is ready to be imported into your Rex account
Warning - The spreadsheet can be imported, however, the system has picked up on some unusual data (ie. a contact's mobile number has an extra number or an email address doesn't have the @ symbol)
Error - A row of data won't import because it is either missing information or has been entered incorrectly
Blocking Error - There is an issue with the spreadsheet file and it needs to be amended
If you have received an error other than Ready, click the Status to view the errors.
From here, you will be able to see what needs amending: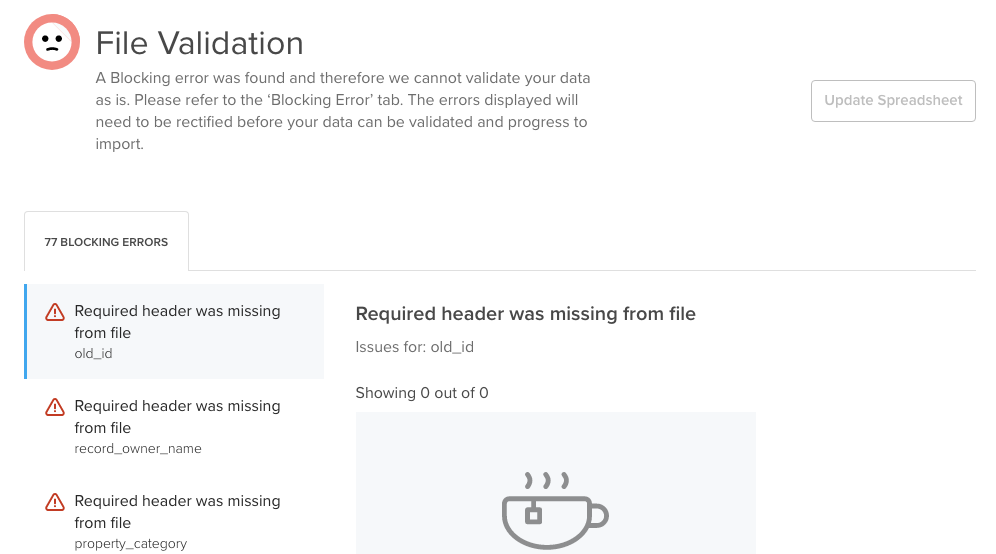 Please Note: You have the option to Update Spreadsheet in the top right-hand corner.
Once you've made any changes that may be required and you're happy with your data, you will need to proceed with the Settings for the spreadsheets. These Settings will tell the Imports team if you'd like to merge or skip duplicate records. To do this:
Important Note: You will need to follow the below steps even if your data showed no errors.

Open your import/file
In the top-right hand corner, select Update Settings
According to the file type, the prompts will be different - follow the questions and tick the option
Click Save
Repeat for multiple spreadsheets
Once the import's spreadsheet Settings have entered in, you will need to submit your spreadsheet. To do this, go back to your import but clicking on the name highlighted in blue at the top, or simply just select 'back' on your browser. From here, select Submit > Confirm Submission: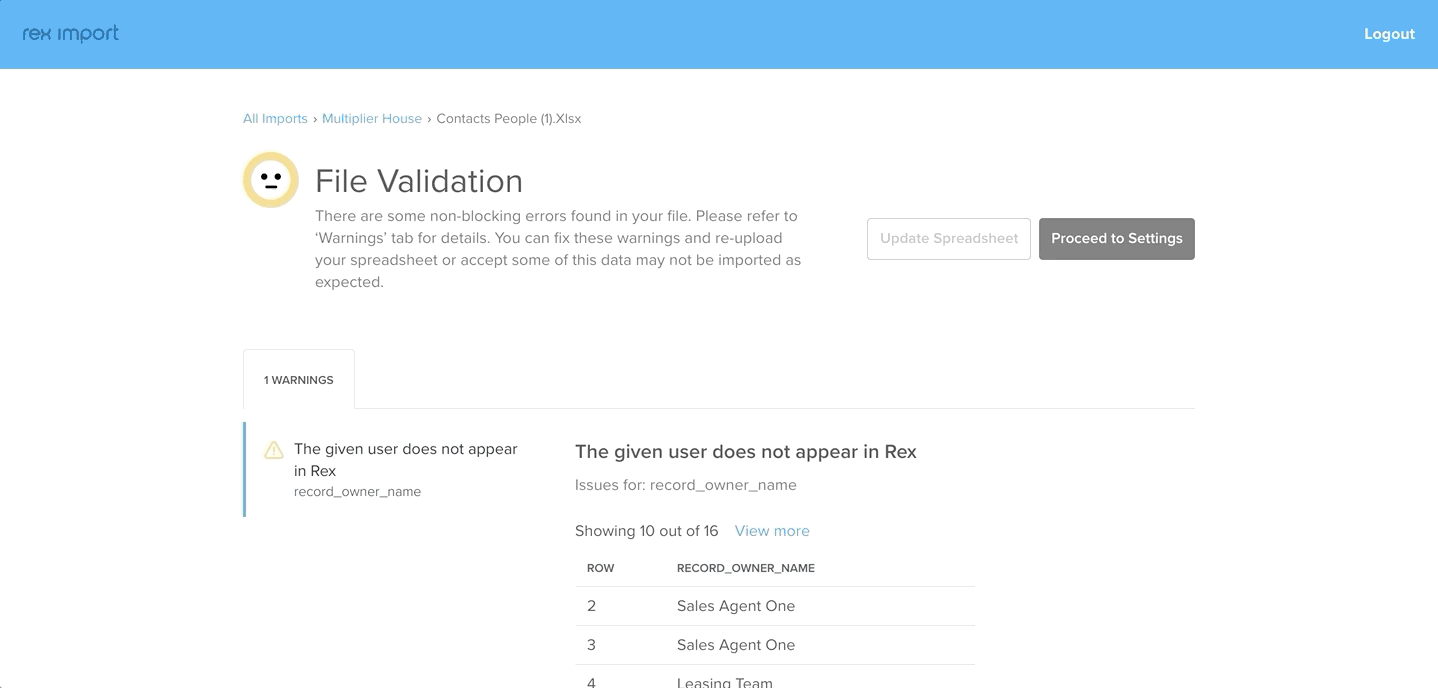 Warning: Once you click Confirm Submission, it will be queued and sent to the Imports team. If you wish to stop the Import or change something, please reach out to support@rexsoftware.com.
Custom Data Imports
We are able to import custom excel spreadsheets for you however, charges will apply. Please note, there is a 1-2 week turnaround on quotations and imports for custom data. Please add an additional 1-2 weeks of time to each of the above dates for custom data imports.
Please contact the Customer Care Team for information regarding pricing and import timeframes. Check out the below documentation for information on importing custom data into Rex.
Please note: Custom Data Imports will need to be emailed to our Customer Care Team - these cannot be uploaded via the Imports Tool mentioned above.