I seem to be getting leads only from Realestate.com.au and Domain, but not the others.
If you are receiving leads from only these two sites, it maybe because you don't have the other portals you use added to the Trusted Email Address section in Rex. Find an older enquiry that has been sent from that site in the past, make note of the email address it came from, then follow the steps found in the following article: Leads: Trusted Email Addresses.
We have a Listing with two agents, but only one gets the lead email.
We are aware of this happening and are looking into this for a fix. In the meantime, reassign the lead to whichever agent should be following up.
Can we get the Domain leads sent to our normal inbox as well as Rex?
At this stage, this isn't something we can do. Domain do have an option for an alternative email address, which we will be adding support for in the near future.
Contacts are not being created automatically and lead is not linking to the Listing.
Most likely, you don't have Auto Parsing turned on for that specific portal. For info in turning this on, see: Leads: Turning On Auto Parsing
If this is turned on and is still not working, please get in touch with the Rex support team.
Why don't my leads appear on the vendor report?
Leads do not appear on the vendor report as they are only an enquiry - you could receive 100 enquiries about a listing, but if you did nothing about them, it would be wrong to show them on the report. This is where you need to process and complete the lead.
You should be receiving the lead, calling or emailing the Contact, then leaving notes or feedback. If it's not in the Feedback tab of a Listing, it won't show on the Vendor Report. For more info on this, see: Leads: How to Process Leads
Filtering for status types
The status of a Lead will change when you take any action in the "Process Lead" window.
You can Filter the Leads for their status to assist in managing your enquiries.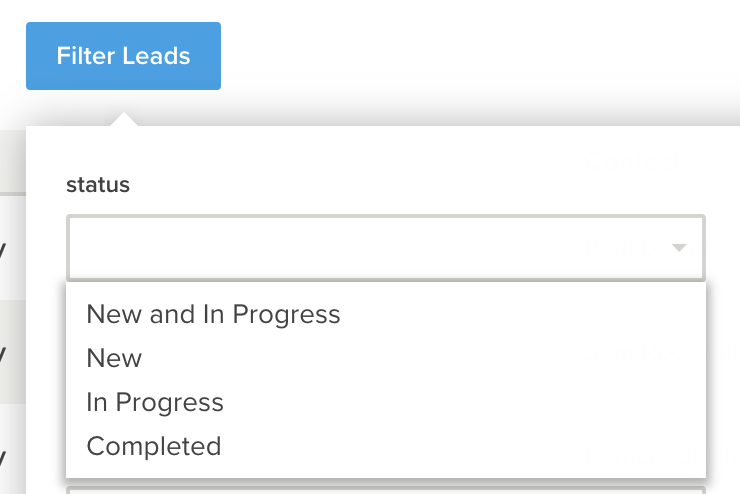 New: This filter will show any enquiry that has come into the Leads section and has not had any changes made.
In Progress: This will show Leads where any action has been made via the "Process Lead" window.
New and In Progress: This filter will show a list of Leads that are both New and In Progress
Completed: This will bring up a list to show only Leads that have been marked as complete.