Appointments can be added to your Rex calendar by adding an 'Appointment' in Rex.
You can add appointments from the Calendar, Global Add button or from a Contact, Listing or Property record.


Adding Appointments to the Calendar

Follow the steps below to add an appointment from the Calendar:

Click on the Calendar icon on the left hand side of Rex
For quick add click into the calendar on the appropriate day and time or click the + in the top right hand corner
Enter a title for your appointment E.g. Viewing. Please note; If this field is left blank, titles will be automatically generated based on the guests and location of the appointment
In the 'type' drop down menu, choose from the relevant options. The options available are based on your configured Appointment Types in Advanced Settings.
Add a start date and time for the appointment. The end date will adjust by default depending on the type of appointment and Admin Settings.


Underneath the date and time, you will have the option of creating a Recurring Appointment and Setting the Timezone. You also have the ability to Find a Time with other Rex user's which is free for all of you.


Enter a Location

Choose whether you want to appear

Free

or

Busy

Enter a description

Click on red

+

next to

Guest

to invite a user or contact

Search for the relevant Contact and click

Add -

Once you have invited a guest you can also choose to invite them. You will need to hover over the guest, click on the drop down arrow and select

invite.


Click on the red

+

next to

Records

to add a related record (Either a Listing or Property Record) and

Save.

We recommend for viewings you always link a Listing record and for Valuations you always link a Property record. This will result in the appointment also appearing on the related record.

Click Save
Please note: Inviting a guest will convert them into an external guest on your external calendar and so they will also receive an invite from your connected calendar. E.g. A Google calendar invite.
Adding Appointments from a Record
Please follow the steps below to Add an Appointment from a record:
Go to the Contact, Listing or Property record you want to add an appointment

Click the Appointments tab

Follow steps 3-12 for adding an appointment for a record




Adding Appointments from the Global Add
Follow the steps below to add an appointment from the Global Add button:
Click on the + at the very top of Rex next to the global search bar
Select Appointment
Follow steps 3-12 for adding an appointment for a record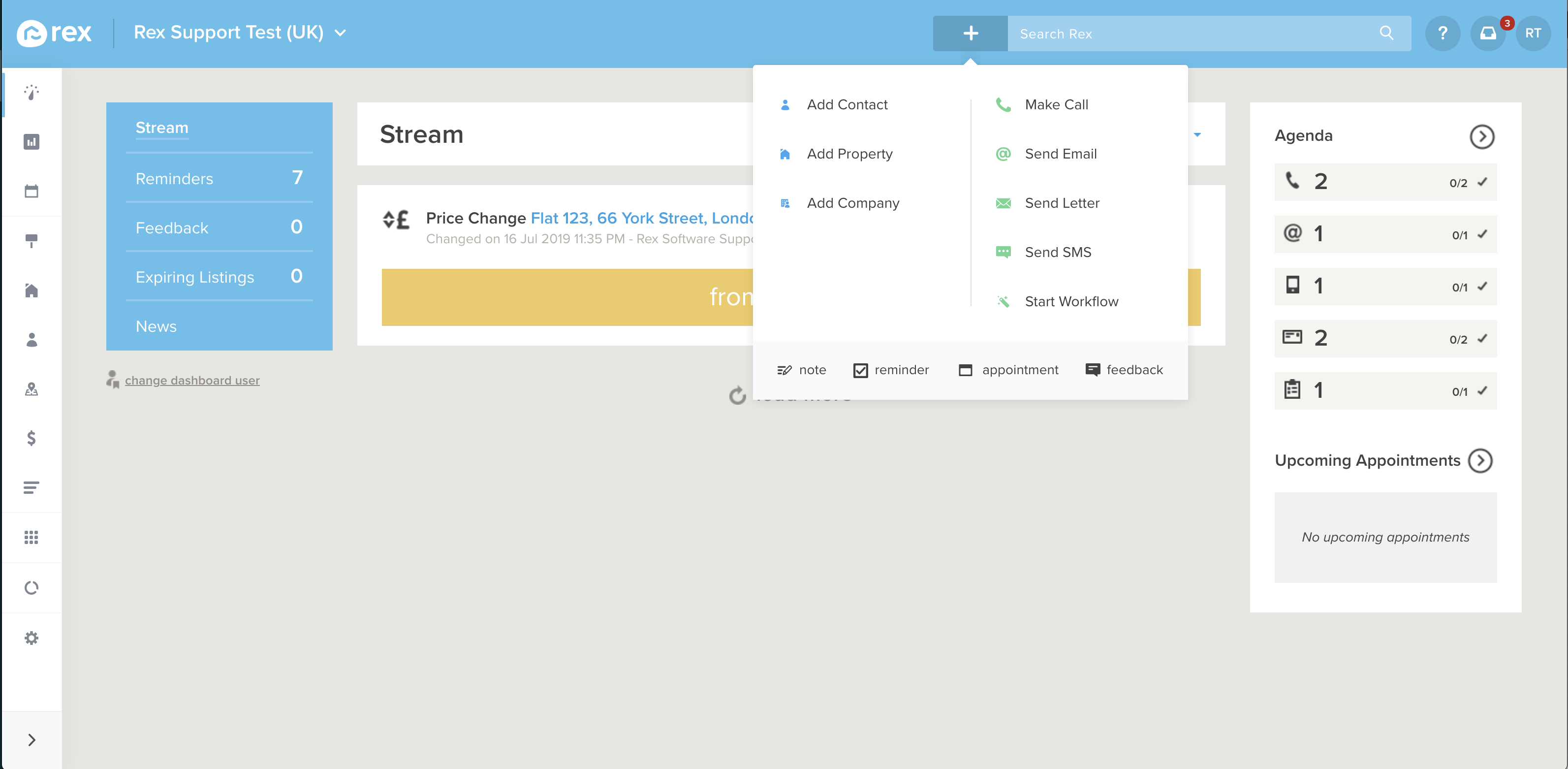 Please note: Please see our Help Article on Sending Calendar Confirmation messages when you adding an Appointment into the Calendar - Sending Calendar Confirmations.