How can we change the listing category type?
For reasons relating to portal upload data standards (set by realestate.com.au), Rex does not allow changing of the category for Listing Records.
To change the listings record category, you'll need to withdraw and then relist it.
To withdraw;
From your top of Listing, record click on More > Mark as Sold/Leased or Withdrawn
Choose Withdrawn
Enter any required details
Click Save
To relist;
Click More > Unarchive
Select List as New Listing
Click Save
Choose what listing type you wish to use. For more info, see Listing Categories
Select which contacts you would like to copy
Click Save

Note: This changes the Listing to Draft mode. To publish the Listing again you will need to select a Subcategory then click the Publish button in the right hand side menu of the Listing.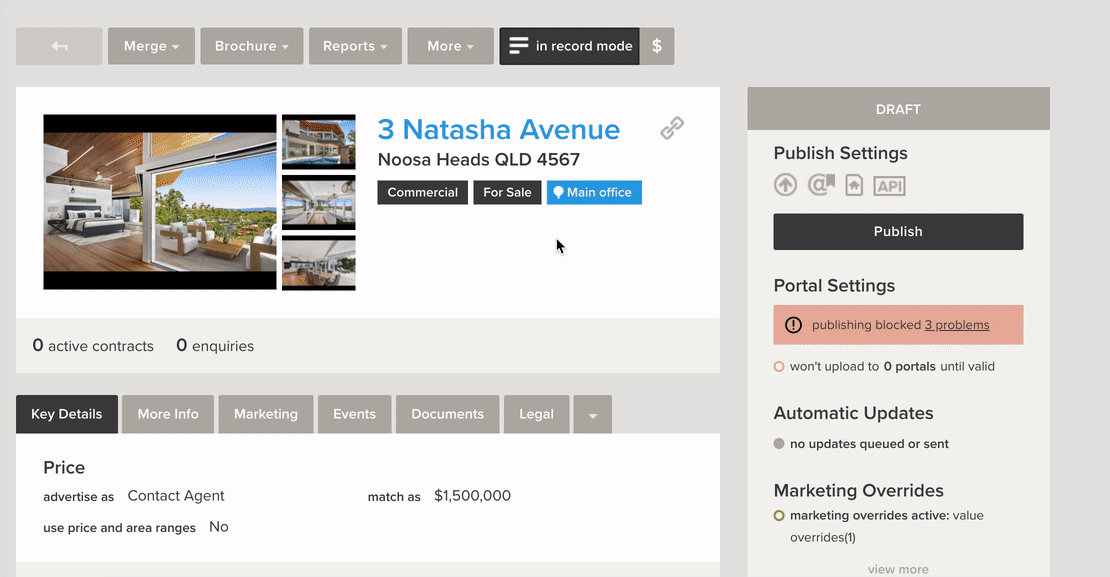 How long does map changes take to update on the portals?

If you have made an update to the map, and these changes aren't displaying on the portals, it is most likely due to an update not being sent through. Once you have made the relevant changes to the map, its best to send through an update to the portals; Update portals.


Updates can take anywhere from 15 minutes to 2 hours depending on how many listings are in queue to feed through. If after this time the updates are not showing, touch base with the support team for further investigation.


How can I search for keys?

You'll be able to run a report in Rex to show you Active listings with allocated Keys - This report can be found under Reporting > Listing & Uploads > Key Locations.
Please note; that if you enter a key number that's not on this list and an error generates saying the key is in use, this would be due to the key being assigned to an archived listing. You will be able to search the listing using the ID provided and archive that key to use for future listings.