While we have a number of default templates you can use, we also offer you tools to create your own. The process used in creating them is much the same for all merge templates, but we'll make note of any major differences.
Using Templates allow you to use merge tags that will pull in information from attached records. Example - if you're building a Letter Template, the Contact you'll send to will constantly change. We can use a merge tag for the Contacts name, and it would change for each person you send the letter to.
Getting Started
From the left side menu, go to Settings > Tracks, Merges & Brochures
Click on Email/Letter/SMS Merges on the left-hand side
Click the black '+' Button at the top
Enter a name for the template
Click Save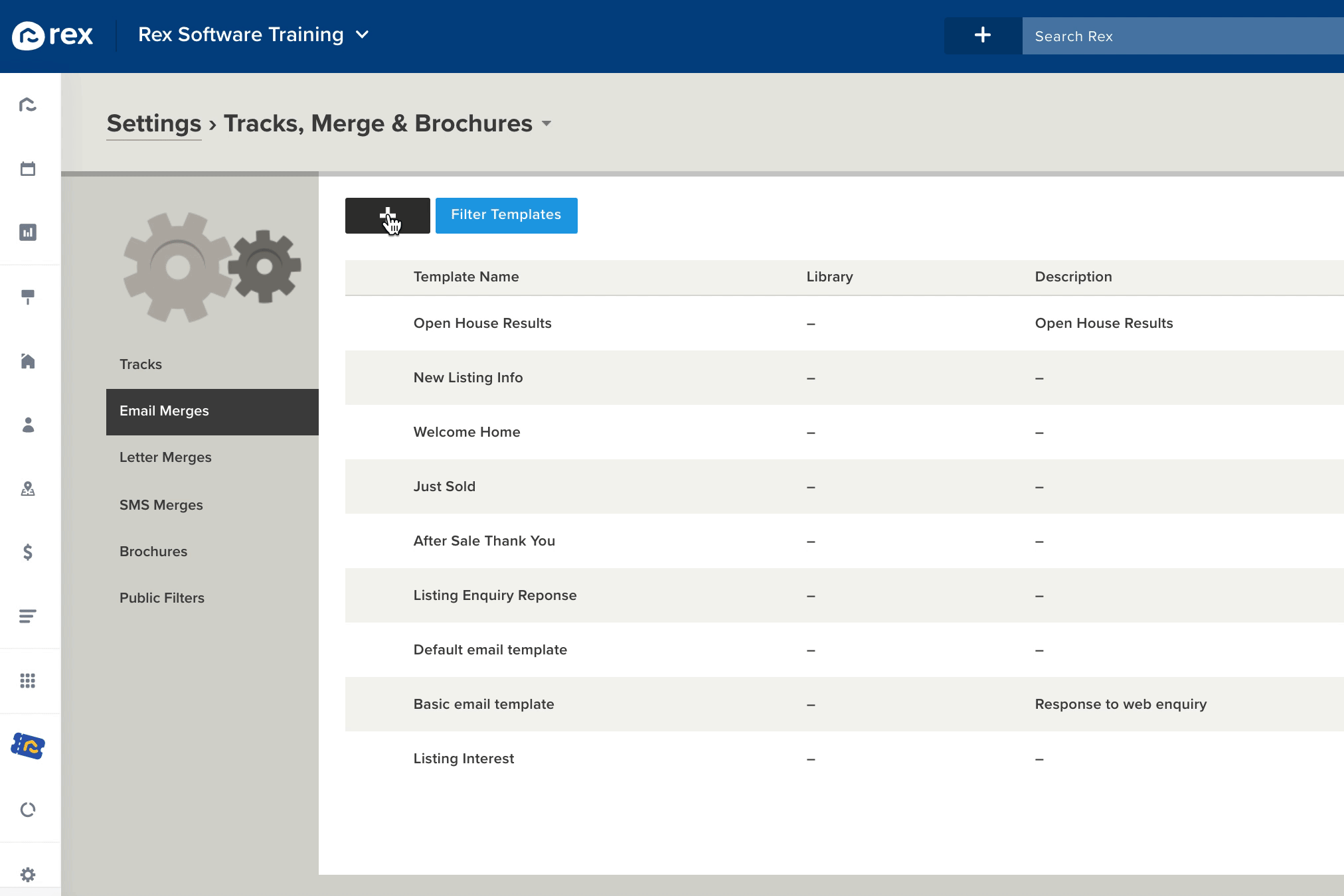 You'll now be presented with a Template Editor. The differences between the three merge types are:
Email - Has all the options mentioned in the below instructions. It also has an Email Subject field where the others don't.
Letter - At this stage, you can't add an Image, but there is a workaround. See Merge: Adding images to a Letter Merge
SMS - There are no formatting tools, you only have the option to + Insert Merge Tag
Module and Description
When creating Email/SMS/Letter templates, depending on the module you're using, you'll have access to different merge tags in the Templates:
Contacts Module - This gives you merge tags for the Contact. Send from here if you don't need to merge info from a Property record.
Property Module - This gives you merge tags for the Property. Send from here if you need to send info about the Property record or contact Related Contacts to the Property i.e. Tenants, Past Owners.
Listings Module - Similar to the Property, but you have merge tags for Contract details. Use this for all correspondence about the listing and selling of a Property.
The 'Description' field is where you enter more info about what your template will be used for. Other users will see this when viewing the template list. You can leave this blank if you wish.
Please Note: Depending on the module you select, the merge template may not show as an option on certain other records. If your merge template does not show as an option when trying to send a merge, this generally means that you've selected an incompatible module type. If you run into any issues with this, please contact our support team.


Entering text into the merge template
As the process to enter the text is a little bit complex, we recommend viewing the below video.