Before we can make use of third party property information, we need to ensure that the property is correctly connected to the integration we're requesting data from.
Follow the steps below to manually connect or reconnect an existing record:
Go to the Listing record and click the Campaign Track extension icon housed in the right hand side menu.


W

hen the CampaignTrack Control Centre dialog box appears c

lick on Create New CampaignTrack Property:




Select what information you want to upload to CampaignTrack and click Push:




You will then be prompted to review and confirm the details. Click Confirm to continue, or Cancel to restart the connection process.


Once you click Confirm you'll then see a Mass Action Progress window. You can stop the process during this time by click Abort mass action.




When the upload is successful you will be presented with a notification. Here you can view the property in CampaignTrack and view the coding log.





Please note: If you are presented with an error please contact CampaignTrack Support. The team will reach out to Rex Support if they need our assistance to troubleshoot the issue.
If the upload was successful, now when you click on the CampaignTrack integration icon again you will be presented with a dialog box that shows the details of your current campaign: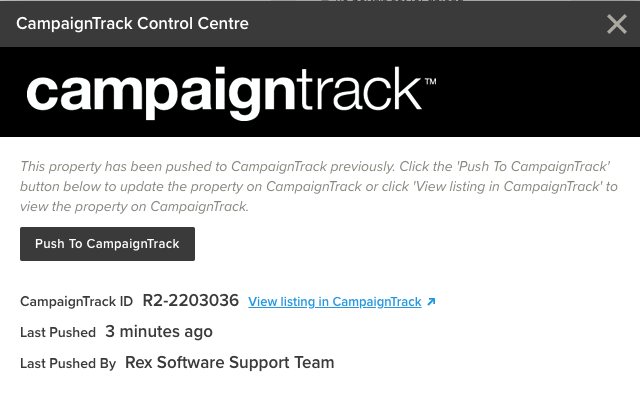 If you make any changes to the Listing or need to make changes to the campaign, you can click Push to CampaignTrack to send an update.