UK Law provides that a property can't be marketed without an Energy Performance Certificate (EPC) having been commissioned. It must be available within 28 days of the property being put on the market/advertised.
We understand how important this is, so we've created a 'Compliance' section on each listing record to either pull through the EPC data using the Open Data Communities integration or alternatively, you're able to enter in the EPC data manually to generate the chart.
This section can be found in the right-hand pane of the listing record, under 'Related Contacts'.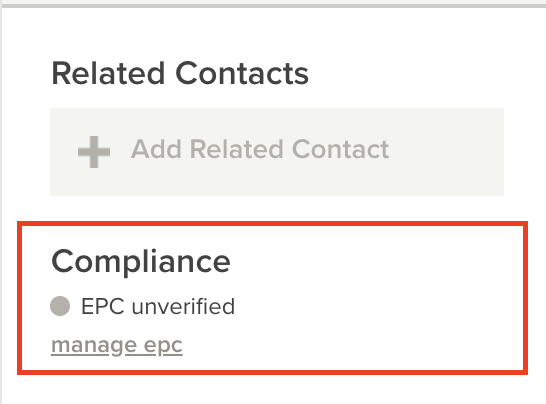 In this section, the EPC will show 4 different status;
EPC

unverified

EPC

not required

EPC

valid until 'date' (eg.

EPC

Valid until 24.03.23)

EPC

not valid 'date' (eg.

EPC

not valid 14.06.17)