In the past, when you sent an email all you could do was twiddle your thumbs and hope that the recipient had opened it. If they didn't reply, you'd never know. We're all for tradition – but thumb-twiddling is no way to run a business.
The Email Engagements capability will tell you everything you need to know about a contact's interactions with your emails.
Let's walk through the steps:
Recipient has opened…
You've sent your email and it's arrived safe and snug in your recipient's inbox. This is when you'd normally be sitting in the dark like an unwitting mushroom. Not anymore, thanks to a little addition to the bottom of your email stream item:

You'll be able to see whether or not the email has been opened.
Let's imagine you've found the perfect Property for a home buyer and emailed them a brochure – all that's left is a quick follow-up call once they've had a look.
You can see straight from the stream whether your email's been opened or not. Clicking the Blue 'opened' link will launch a dialog box with more detailed information about your Contact's engagement:

This dialog will show you when you sent the email, when it was delivered, and when it was last opened.
…and clicked link(s) in this email
As well as viewing email 'opens', you'll also be able to see if your Contacts have actually engaged with any content you sent them. If you've included any links (e.g. pdf brochures, legal forms, etc.), you can check if those links have been clicked or not.
You can access click activity via the 'Events' tab in the engagement dialog. We'll tell you which links were opened, how many times and when: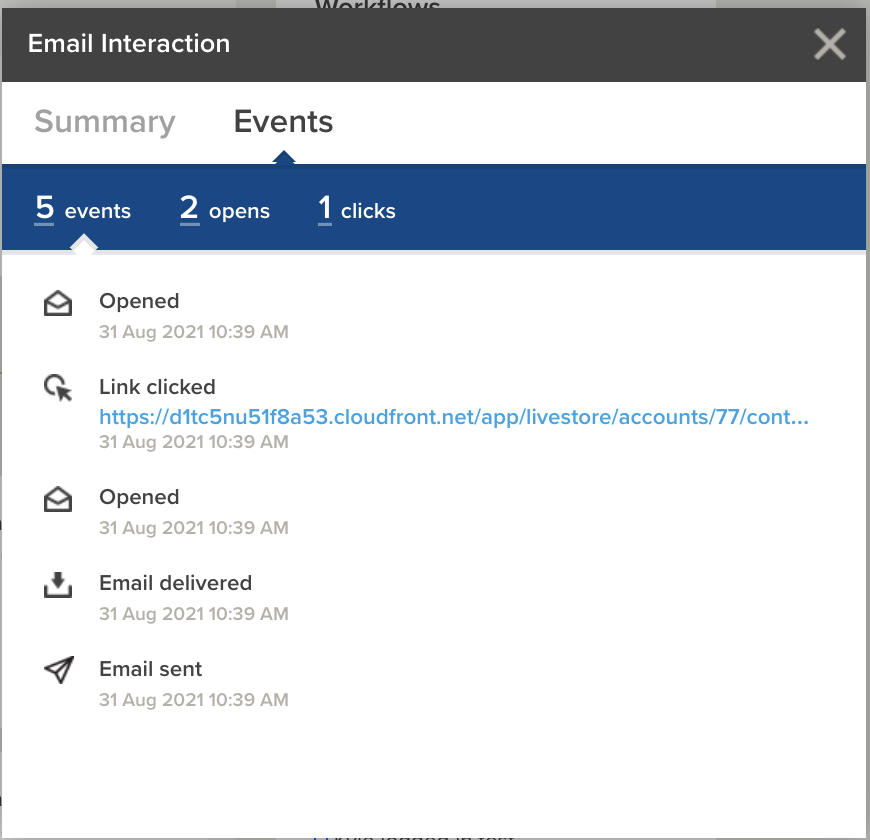 Although this doesn't give you complete access into the minds of your clients – (we're working on it) – you can be fairly certain that someone's at least slightly interested if they've opened an email or clicked a given link seven times in the last two days.
Multiple recipients
If you've sent your email to more than one Contact, you can scroll through the engagement activity of all the recipients from the same dialog. This works the same way if you've included any Cc or Bcc contacts in your email to a singular Contact.
Clicking the Blue arrow next to a particular Contact's name at the top of the window, you'll see a drop-down list of everyone who got the email – saving you the need to jump back and forth between Contact streams.
It'll be easier than ever to gauge client interest and know the best time to follow them up.
Foster your psychic abilities with Rex's new Email Engagements and put those twiddling thumbs to rest.
A little extra
We've also tweaked the stream item to show you when your email doesn't send. If the delivery fails, you'll receive an email bounce notification and your stream item will show this:

Clicking 'Delivery failed' will bring up a different dialog explaining why your email failed to send: