In Rex you now have the ability to add multiple ledgers to a single trust account. Agencies are now able to create different ledgers to hold funds for different purposes.
For example, if you receive marketing funds from a vendor, this would be held in a different ledger from the deposit from the purchaser.
To record a trust function against a relevant listing, follow the below steps:
Open the Listing
Click the $ to change the listing from record mode to finance mode - this is located next to In Record Mode above the listing address
Click the Trust Accounting tab
Click Attach a Trust Account
Select which trust account you would like to add to the listing
Then select which ledger type you were after. There is a marketing ledger for marketing funds and a deposit ledger for sale deposits. If you would like to have everything on one ledger you can still do this by selecting the trust ledger.
Add in your related contacts. The related contacts section dictates who is associated with the ledger. It is mandatory to have this section filled out.
Click Attach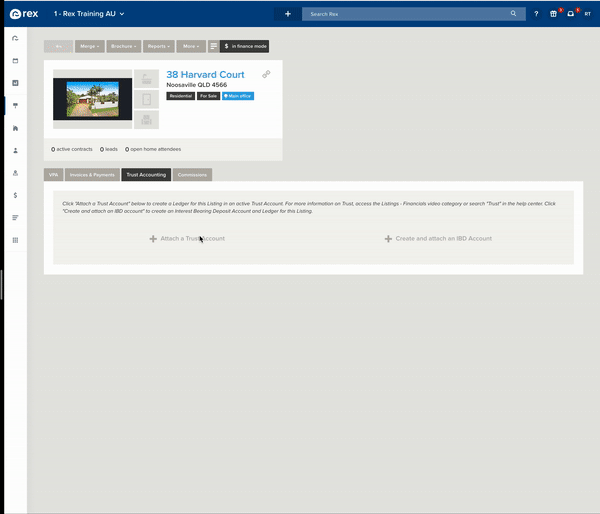 Here's a video that goes into this with further detail:
Additional Notes:
Multiple trust accounts can be assigned to a particular listing.

To add additional trust accounts to a listing record click Add Another Trust Account from the trust account tab.

Please take caution when using multiple trust accounts to ensure the correct trust account is selected prior to recording a transaction. To change between trust accounts, click the trust account name and select the relevant trust account that you are wish to record a transaction against.