The first thing to note on the Home page is the main area, which we call the Stream. On the left hand side, you have the navigation panel - which lets you navigate through the various sections of Home. On the right hand side, you have the Agenda - which is a quick view of what you have coming up in your day.
The idea of the Stream is that it forms a kind of visual whiteboard. You can see Sales, Listings, Lease activity and any price changes that have occurred. You can also have a look at Listing images by opening an image gallery to cycle through the photos.
You can filter the Stream to only show certain activity. For example, you might just want to see the price changes, so you can apply the filter that way. It's a very quick way to get around.
The Agenda on the right hand side of Home allows you to view your tasks which are overdue/due. This shows Reminders one week in advance and two weeks in the past. Below the Agenda, you have any upcoming Appointments scheduled for the day.
To further enhance Rex's user experience, the Agenda is full of visual representations of a user's to-do list. We've included progress bars to show how far you've come for the day and how much work you have left to go. This is a great, motivational way to see your daily accomplishments.
Filtering the Stream
To filter the Stream, go to Home
Click the Activity type drop down
Select which option you would like to filter by from the drop down:
All
New Listings
Price Changes
Status Changes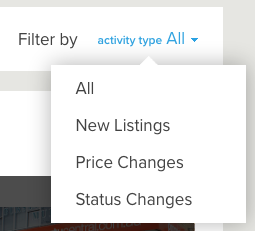 Printing Reminder List From Home - Pocket Agenda
If you wish to print off a list of your Reminders (For those that still prefer hard copies), you can do this by:
Going to Home > Reminders
Filter your Reminders as you prefer
Click Pocket Agenda at the top of the screen
Click Download Report
Open the downloaded report file and, if you wish, print
If you wish to only select a few Reminders for your Pocket Agenda, you can click the drop-down button next to the Pocket Agenda button, then choose 'Select Reminders for Report'.
The Pocket Agenda will come out looking somewhat like the image below. (Yours may vary and show reminders and other notes).