The Documents Tab works the same way across all record types. You can use it to upload and view any document relating to a specific record. The Documents tab on a Listing record also offers options for categorising your files and sending them onto third parties, like portals and your website.
The maximum file size which can be saved is 30.00MB.
Add a Document
Click the Red plus (+) symbol next to 'upload document'
Find the file you wish to upload from your computer or document storage system
Click Open
Click Save at the top of the screen
Once you've uploaded a file, you can access other options by hovering over the document, then selecting one of the following options: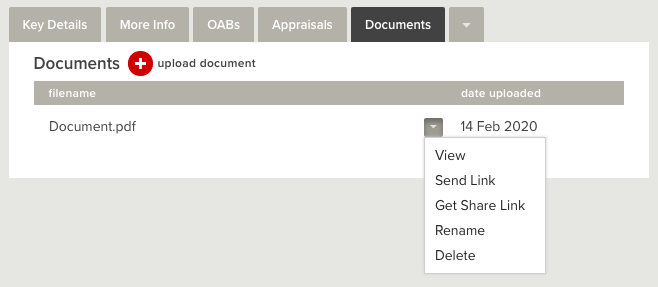 View - This will open/download the file
Send link - This will open a new email merge, with the file already attached to send
Get Share Link - This reveals a link to where the file is stored - this is helpful if you want to send the link to someone
Rename - Lets you rename the document
Delete - Removes the file from Rex
Edit - This only appears on listing records. See the next section for more info
Please Note: Uploading a document to a Property record will not add it to the attached Listing Records, and vice versa. Documents that relate to the Listing should be loaded to the Listing record.
Editing Listing Documents
Listing documents have an additional option in the dropdown edit. This will let us do several things:
Filename - Rename the file
Type - Here we can set the type of document - you can create your own types from Admin > Custom Values and Mailing Lists - see Custom Values: Adding Custom System Values
Document Access - This lets you choose whether Rex will publish the link on your e-brochure or Siteloft site. As more sites add this, we'll be able to send to them also.

Private - This file will not be fed through to E-brochures or Siteloft sites but can still be accessed if you send the link to your contacts
Public - You can still send the link to you contacts, but the links will also appear on your E-Brochures and your Siteloft site (if you use Siteloft)
Statements of Information (Victoria only)
If you have a Statement of Information uploaded to your Listing, you can send this through to the portals by:
Changing the Type to Statement of Information
Set the Document Access to Public
Click Done
Allowed file types
If you're unable to save a document, you may be trying to save an unsupported file type. The following extensions will be accepted and saved into Rex: .pdf, .doc, .docx, .xls, .xlsx, .jpeg, .jpg, .gif, .png, .bmp, .tiff, .txt, .zip, .rar, .psd, .pub, .ppt, .pptx, .msg, .rtf, .csv, .tif, .html, .htm, .odt