The Publish settings determine what channels your listing will be used for. So if the listing will be sent to Portals or can be used Stocklists. These options can be found at the top of the Right-hand Pane.
Change Publish Settings
In the right-hand pane, hover over Publish Settings and click on the red Edit button
Uncheck or Check any that you don't or do want your listing available for:

Upload to Portal - this allows this listing to be sent to any portals you're currently feeding to. This option can't be turned off once you publish the Listing
Make available for automatic updates - This setting controls if this listing will be sent to any contacts with Match Campaigns. See Match Profiles: Introduction
Include in stocklist and manual e-marketing - This allows this listing appear in Stocklists and to be sent in Newsletters and Manual Matches.
Make Available via API (website, custom feeds) - This controls how third parties can interact with this. So if you have a Siteloft Site, or you use Campaign Track

Once you've finished in there, click Save

How to Publish your listing
You simply click on the Publish button on the right hand side: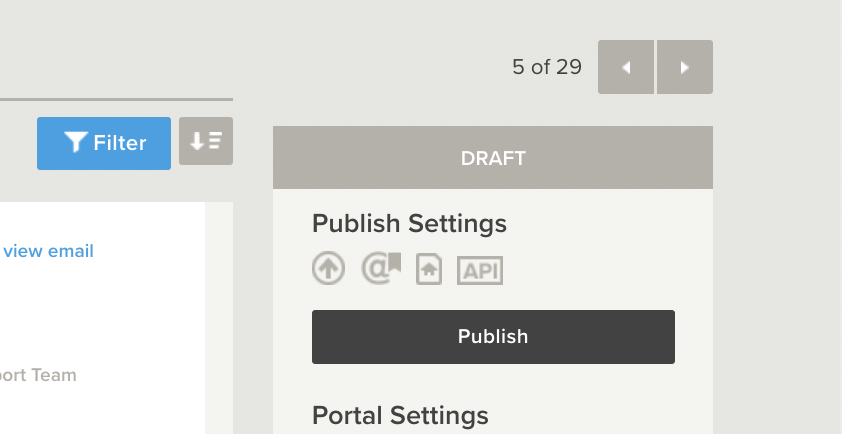 Once a listing has been Published it cannot be returned to Draft mode.


To stop your listing being published on the Portals you will need to stop each Portal Feed in the Portal Settings.
To do this:

1. Go to Portal Settings & click on the red pen icon
2. In the Portal Settings box that appears > hover over each portal in the list
3. Click on the Stop icon to stop the feed. The will keep the listing Active but will hide it from the Portals as 'Off Market'.
4. Click Save once you are finished